Seven Popular CMS Tools: Pros and Cons
by Alfie Powell, on 5 October, 2021
There's a silly amount of CMS tools out there and all of them act in slightly different ways, although ultimately they all do the same thing... like Bionicles.
So, below is a list of some of the best CMSs out there - not necessarily in any order - and what they do.
1. HubSpot
HubSpot is great. It does everything you want it to do and more. It's like 12 different wonderful martech tools rolled into one.
Of course HubSpot does the normal CMS stuff where you can write and publish blog posts and whatnot to your website, but it also lets you publish to any and all of your social media channels. With the HubSpot Marketing Hub, all of your tools are in one easy-to-use and very powerful platform.
Pros:
Easy to use.
Genuine all-in-one platform.
Fantastic content measurement and success too.
Also a great CMS (but that's a story for another article).
Free CRM software for sales team.
Great social media, email marketing and customer communication functionalities.
Cons:
The price can rack up pretty quickly if you're not careful/your demands are high.
They don't have flexible contracts at all. If you sign up for 12 months, you're not going anywhere for that year. As they delicately put it themselves, "No early termination; No refunds".
It's not great unless you are using it as an all-in-one platform. If you host your site on WordPress and use HubSpot for its other features, it won't like that at all, and makes your job a lot harder.
The templates aren't all that easy to modify.
Technical support costs extra.
The reporting is lacking, and it doesn't allow for data on mobile visitors.
The aggregated review of HubSpot on G2 (like IMDb or Rotten Tomatoes but for tech tools) is 4.5 stars out of a possible 5. Not too bad.
2. WordPress
The most used and most well-known CMS in the world. You've got to give WordPress credit where it's due, they offer a CMS for people and companies of all sizes.
On a personal note, I've exclusively used WordPress for my own exploits over the years, and at the same time, The New Yorker used it as well. That speaks to the power, customisation, fluidity and comprehensiveness of the CMS.
Pros:
The shear amount of plugins available to customise your site and measure optics is astounding. Around 60,000 of them!
Inbuilt optics tools for measuring all sorts of stats.
Highly customisable.
Very easy to use, and it's wonderful for adding on third-party tools and plugins - such as forums, membership areas, shops and more - with very easy administration.
Small code snippets can be added, or it can be as simple as clicking a couple of buttons on your backend.
Because it's so widely used, the help available on the internet is stunning.
Cons:
Not the most secure. Being open-source, WordPress sites are more susceptible to hackers, and users need to be vigilant when adding themes and plugins.
Again, since it's open-source, users need to know how to self-host. This means finding your own website host, which is an extra expense and can complicate things somewhat.
Upping the quality of your site from the initial themes and starting points can get expensive and complicated if you're not already well versed in web development.
G2 also rated WordPress as 4.5 stars out of 5.
3. Wix
Wix's biggest draws are that it's pretty affordable and it looks nice. Prices range from £13-a-month to around £25-a-month if you want to sell stuff online. It does go to more that that of course, but you can basically get most of what you need from Wix for those standard prices.
Pros:
Affordable.
Very beautiful designs.
Over 800 templates, making your site very customisable.
Incredibly easy to use, with drag-and-drop functionality.
A lot of extra features.
Cons:
Uses "pixel perfect" to optimise sites for different formats, which is rubbish. Desktop sites won't look too great on mobile or even other sized computer screens.
Once you pick a template, that's it. No changing.
You need to pay extra for tracking and analytics.
Your site isn't transferable from Wix itself if you choose to move on.
Wix received 3.75 stars out of 5.
4. Drupal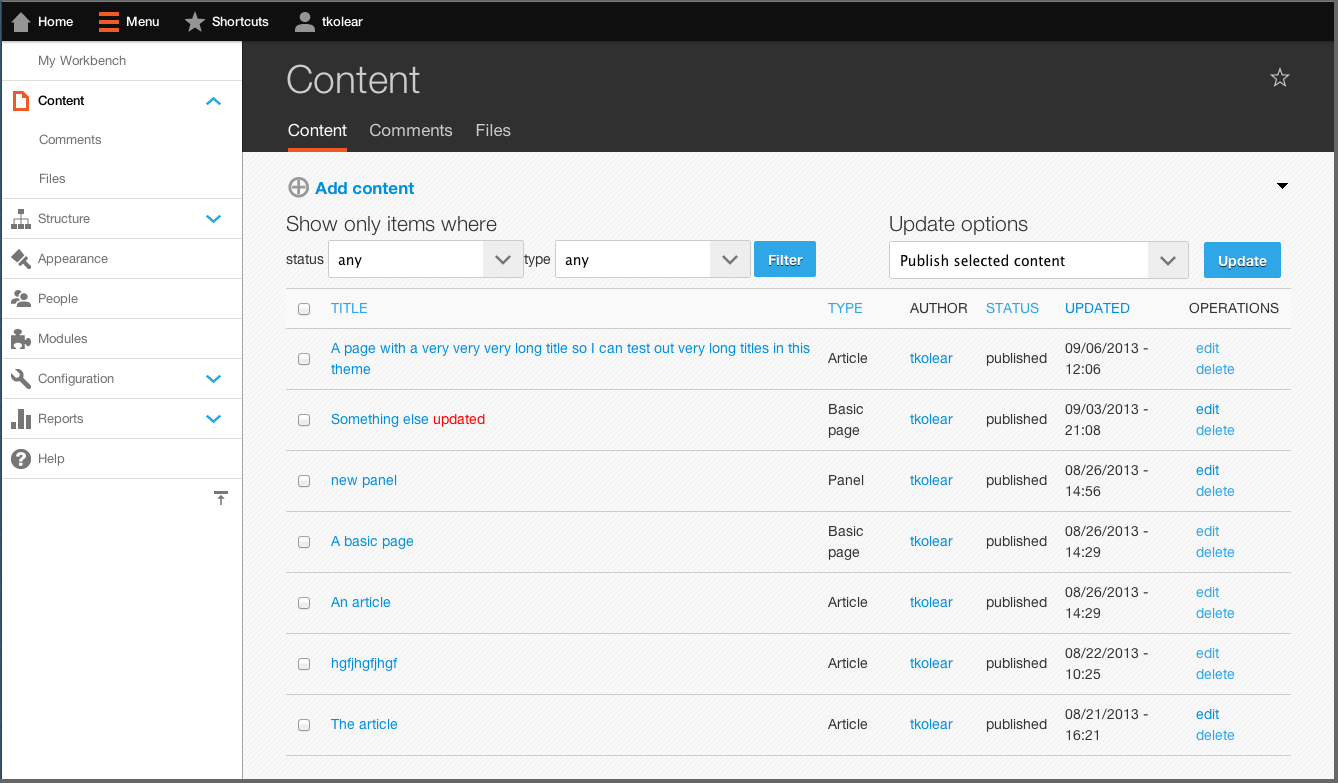 Sites like The Economist use CMS tool Drupal. Sites like The Economist? The Economist... and The White House!
Pros:
So customisable, it's almost silly.
Can handle outrageous amounts of data and code and features.
If you know what you're doing with code and design, you can have the exact site that you want to have.
Drupal sites can grow and fit your needs as your business grows and requires more features.
High bandwidth and extensive guaranteed uptime.
Cons:
Not at all easy to use. You genuinely have to know how to build a website to make Drupal work, or pay someone who does.
The more you need and the less you know about website building, the more expensive it gets.
Not ready for out-of-the-box use.
Can be slow if not configured properly and making changes can be troublesome.
The same open-source security issues as WordPress.
5. Joomla
Joomla is free to use, but you will need your own domain name and hosting already (which does cost money).
Pros:
Free to use.
Great for developers.
Has a pretty good native SEO feature.
The extensions are pretty good.
Much more intuitive to use than people give it credit for.
Cons:
It's not the most user-friendly site in the world - another one that's very handy for developers - and it can get tricky for the plebs out there like me. It's sill better than most though...
It's dated. It's very of its time - coming from the early 2000s - but for some reason really sort-of refused to adapt to the times.
Very "meat and potatoes". It doesn't go in for all of the fancy bells and whistles that other CMS platforms do.
When it comes to making a site that isn't the most basic thing in the world, then Joomla is stupid complex and antiquated.
G2 somehow give it 4 stars, while Fool.com give it 5.8 stars out of a possible 10.
6. Textpattern
No me neither...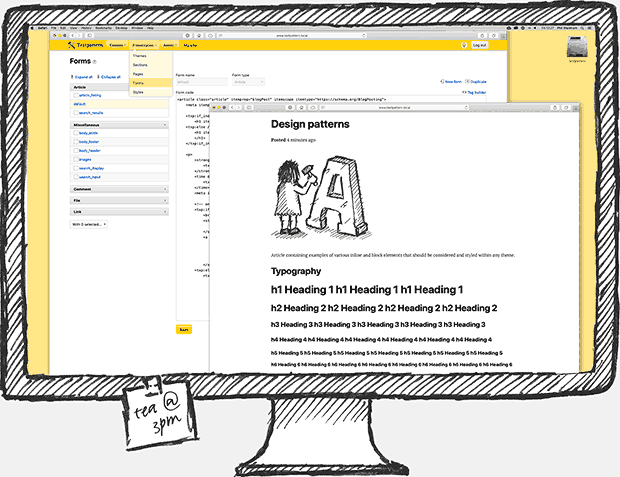 Honestly they don't even have a review for this one on G2, and G2 has absolutely everything.
Textpattern is a CMS that has been around since 2003.
Pros:
To those in the know, Textpattern is known as one of the most flexible open-source CMSs and is very popular with developers and designers alike.
Perfect software for people with high documentation needs.
Pretty easy to use.
Great customisation.
Largely free-to-use.
Cons:
Because it's relatively small, when it comes down to you hiring writers and journalists and the like, it will be very unlikely that they'll be familiar with the software you expect them to use.
If the host goes into liquidation - which is a risk with small-ish companies - then more often than not, it takes your site with it.
Very little help and information available on the web.
The most recent review I found for Textpattern was from 2017 and that concluded that no, they won't be using it...
7. Squarespace
Squarespace is a lot like Wix, in that it's good for newbies, has annoying adverts, and it's - with the best will in the world - more style over substance.
Pros:
Squarespace sites are hosted on the Squarespace servers, so you don't need to do any legwork before setting up a website.
Catered towards a no-code crowd. It's very user-friendly.
Like Wix, offers very pretty and visually pleasing templates for you to play around with.
Very customisable with loads of templates and plenty of fonts, which can be changed later.
The mobile versions of the sites you create are very responsive and aesthetically sound.
Affordable!
Cons:
Not friendly with ad-placement hosts like AdWeek.
Lacklustre editor that doesn't auto-save changes.
The backend navigation can be a little clunky.