Chances are, you're already dealing with MarTech regularly on a day-to-day basis, even if you don't realise it. Sending automated emails? MarTech. Maintaining a website? MarTech. Scheduling social? Yep, MarTech.
While it's well and good to invest heavily in marketing technology there's not much point in having all the gear…and no idea.
Martech overload
While the most recent iteration of Scott Brinker's Marketing Technology Landscape Supergraphic might highlight "only" 27% year on year growth*, the 2018 report boasts a whopping 6,829 MarTech service providers – a staggering growth of over 4400% since its 2011 introduction.
With vendors to help businesses with everything from optimisation, to bots, sales automation to programmatic advertising and everything in between, you'd be forgiven for being a little overwhelmed (and more than a little afraid).
So, when it comes to deciding which of these technologies to include in your own marketing technology stack, and how to actually harness their power- where the heck do you start?
As the ecosystem of marketing technology grows at an exponential rate, as it shifts, changes and evolves, it has become imperative to bridge the gap between tech and marketing. Moreover, it is proving ever-tricky to navigate through the broad scope of data, analytics, technology, strategy, consumer behaviour and formulate gripping audience journeys and robust marketing strategies.
Holy marketing technology stack Batman.. now what?
Enter the marketing technologist. But who are they, and what do they do?
Simply put, a marketing technologist is like Batman (bear with me here). Armed with not only the latest and greatest gadgets, Batman has the innate understanding of how to use those gadgets for maximum effectiveness in the field.
Running with this example we might then compare IT to Alfred, a former intelligence agent* who is critical in the behind the scenes, and in the development and maintenance of Batman's equipment.
Ok, stick with me as we draw one more parallel in the 'Batman' analogy. It could be said that your Marketing Officer is like Robin. Defined as a highly competent athlete, martial artist, detective, a fearless vigilante, Robin is a front lines bad ass.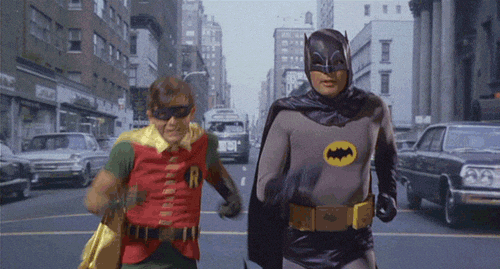 While formidable in their own rights, there is a discernible gap between the specialisms of Alfred (IT) and the specialisms of Robin (marketing officer) – bridging the gap between the two specialisms is the remit of the marketing technologist.
Ok, marketing technologists as superheroes may be a tad hyperbolic – but it's no exaggeration to say that modern marketing is becoming increasingly dependent on data and technology, giving rise to this new breed of marketing professional.
A marketing technologist serves a hybrid functionality, an individual who can speak both marketing and IT, translating their technical fluency into highly effective marketing campaigns, customer experiences and programs.
Understanding ever changing consumer patterns, looking for new ways to analyse the data and determining which technologies will most effectively leverage that new data is the core function of the marketing technologist.
They might not be fighting crime and saving the world, but the role of the marketing technologist is definitely helping redefine modern marketing and that's gotta count for something, right?
*The landscape of marketing technology providers has seen exponential growth since Scott Brinker first unveiled his infographic in 2011 and while the increase in marketing technology providers from 2017 to 2018 may not seem as significant as past years, it's worth noting the providers outlined in 2018 are the effectively the sum of all those listed from 2011 to 2016.
| | | | |
| --- | --- | --- | --- |
| Year | Companies / Solutions | YoY Growth | Growth Since 2011 |
| 2011 | 150 | - | |
| 2012 | 350 | 133% | 133% |
| 2013 | - | - | - |
| 2014 | 947 | 171% | 531% |
| 2015 | 1876 | 98% | 1151% |
| 2016 | 3874 | 107% | 2483% |
| 2017 | 5381 | 39% | 3487% |
| 2018 | 6829 | 27% | 4453% |