I want you to consider this the Argos Catalogue of NFTs.
Go through each one, circle it with a black marker pen, and give it back to mum just in time for next Christmas.
It's been a couple of years now since the world went NFT-mad, putting bids on that random meme that lives in the recesses of your 15-year-old mind.
But now it's expanded waaaay beyond this, from online games, to profile-picture specific pieces, to buying prestigious artwork that can never actually be hung on the wall to impress your hipster friends.
If you've just woken up from a coma and have no idea what I'm talking about: number one, congratulations, you're a fighter and your family are very proud of you, number two, be sure to check up on our WTF NFTs article. There's some other news stuff about the site, just to get you up to speed with the rest of the world too.
Without further ado, take a browse at the biggest and/or best NFTs in the news right now.
1. Doodles.
Aptly named a 'community-driven collectibles' NFT project, Doodles boasts a collection of 10,000 sherbet-coloured, candy-flavoured, bubble gum-scented profile picture ready creations.
The project is a stroke of genius from illustrator Burnt Toast. Get it? Because smelling burnt toast is a symptom of a stroke? Heh heh. Heh. Oof, tough crowd.
The collection is run by a trio of big names in the space. Burnt Toast, or as his mum knows him 'Scott Martin', has created art for Google, Snapchat and WhatsApp. He is joined by two ex-Dapper Labs employees who were part of CrytoKitties - Evan Keast and Jordan Castro.
After an exclusive pre-sale, the NFTs were minted out at a price of 0.123 Ethereum. When the public mint went live, gas on the Ethereum network jumped to over 1 ETH per mint, thanks to the high level of interest.
Though, there was a lil bit of backlash, as with all good things. Some interested individuals learnt about the project late, and some public minters disliked the five mint maximum that was offered to presale members. Arguments were made that the number should be lower.
You might be wondering where the 'community-driven' aspect comes in. Well, the team has created a forum for the Doodles community, so they can post their proposals for the roadmap, and give feedback on each idea for consideration. Or as the site puts it: "Holding a Doodle allows you to participate in coordinating the Doodles Community Treasury."
"The road map for Doodles is collaborative and will be decided by Doodle holders. With imaginative ideas, adequate resources and coordination, we believe we can bring Doodles to every vertical of popular culture!"
2. Blockchain-based game Axie Infinity.
Created by Vietnam-based Sky Mavis, Axie Infinity has a bunch of economic opportunities which have drawn in users all over the globe.
And investors are seeing the opportunities, too. Just five months after raising $7.5M in series A funding, they saw a $152M series B, with a valuation of $3B. And it's all thanks to the underlying cryptocurrency system.
Axie uses crypto to support a new kind of video game, where players can earn a meaningful income just by playing. The community holds a financial stake in Axie through the two currencies, which can be used to influence the game's development. so, people are playing, and then going out in the real world with Axie's gaming tokens.
Since its launch, Axies has exploded in popularity, with nearly 2M daily active users.
But what about the NFTs? I hear you ask. Well, Axies are themselves NFTs, with not just an aesthetic value, but with s utility in the game.
Axie is a Pokémon-style game where you use these Axies with various abilities to battle against other players. Users earn tokens by winning a battle, or by selling them on the marketplace. To get an Axie, players have to buy one on the exchange, or breed them from existing Axies.
Beside the AXS token needed to start playing, the game also has SLP, or smooth love potion. Which is also the name of my Jazz Funk album. Players earn SLP when they win a match, and need both tokens to breed their Axies.
3. CryptoPunks.
Oh, that's right, we're still repping CrytoPunks.
These 10,000 algorithmically generated punks are some of the most expensive NFTs out there, making up 3 out of 5 of the most expensive NFTs ever sold. In fact, an ultra-rare alien punk was sold for $7.58M, and is currently on sale for an out-of-this-world $142.4M.
Even more insane is the "Covid Alien" which is one of nine of these 'alien punks', which sold at Sotheby's for over $11.7M. Well, he is the only one in the series with a mask, so obviously it's a bargain.
The platform has seen nearly $2B worth of transaction volume since its launch, up from £200M in April, and $11,500 in 2017. Now despite their 6 and 7 figure price point, the punks were given out for free at the time of their launch.
Part of the "digital flex" movement, their price and rarity means they've become somewhat of a status symbol. Think a Rolex that you can never wear. Some owners have even started to use their punks as an avatar on social media sites.
Going onto the CryptoPunks website gets you this message:
"CryptoPunks. 10,000 unique collectible characters with proof of ownership stored on the Ethereum blockchain. The project that inspired the modern CryptoArt movement."
"The first "Non-Fungible Token," and inspiration for the Ethereum ERC-721 standard that powers most digital art and collectibles."
So these funky lil guys basically started the NFT revolution. And they're so gosh-darn cute. The nearest thing the internet has to collectable antiques, these simple clumps of pixels go for top dollar.
No two CryptoPunks are alike, each with an Average Sale Price of 14.65Ξ or ($26,539).
<- this Moby looking fella went for a cool $1.05M.
<- This dapper gentleman went for an impressive $1.54M.
<- and this unassuming lil guy went for $7.57M.
4. RTFKT Clone X NFT collection
Formed by three friends at the beginning of the pandemic, RTDKT creates viral sneaker designs, memes and collectable exclusives using the latest in-game engines, NFTs, blockchain authentication, and AR.
Their new NFT collection, however, is self-described as their most ambitious project yet. The Clone X collection is made up of what are basically 3D based NFTs. The buyers will get access to the 3D files where they can forge physicals of their Clone's fit.
The models are functioning in games, such as Fortnite 3D, offering implications for the metaverse.
In mid December 2021, Nike started its foray into the metaverse, announcing that it had acquired RTFKT, looking to utilise the digital sneakers and collectables the company offered.
Following the announcement, secondary sales of RTFKT's Clone X NFTs went a bit mad, with investors looking to get a slice of the virtual pie. The floor price of the collection is currently around 6 ETH, doubling since the news was made public.
5. Pepsi Mic Drop
"Pepsi has always been a brand with a strong heritage in music and pop culture, so it's only fitting for us to bring that legacy into the new world of NFTs with a 'mic drop' of epic proportions," says Todd Kaplan, Vice President of Marketing, Pepsi.
"We created the Pepsi Mic Drop genesis NFT collection for our fans, putting their interests and needs at the forefront by ensuring the NFTs are all free of charge and presented equitably as an inclusive and accessible opportunity for anyone to experience the exciting world of NFTs.
This collectible series of microphones is not only inspired by our history, but also represents the scale and scope of how accessible we see this space becoming in the future."
Announcing their first jump into the world of NFTs, the Pepsi Mic Drop genesis NFT collection offered 1,893 tokens with nearly 50 unique attributes across 6 categories. What makes these different, however, was that the original NFTs were put live onto the Ethereum blockchain for free.
Though the original drop was on December the 10th, the brand are holding back 50 NFTs back from the initial drop, and have yet to reveal why. So keep your eyes peeled.
6. Illuvium
Another game-based NFT here. Illuvium is an open-world RPG blockchain built on Ethereum, due to be released this year. In fact, it's the first play-to-earn AAA NFT blockchain game. Snazzy.
Players travel across the world defeating and catching creatures known as Illuvials. You can then add them to your collection, and use them in battles against other players whilst you work your way through the game.
Players collect these Illuvials, which have their own classes and affinities, strengths and weaknesses. With each win, the Illuvials become more and more powerful.
Illuvium has two ERC-20 project altcoins on Ethereum; Illuvium (ILV), and sILV. Token holders can use ILV to liquidity mine, take part in governance, and gain rewards.
This is where the NFTs come in. Illuvium uses NFTs to represent each Illuvial and each tradable in-game item. These items can also be traded on an external NFT marketplace.
7. Decentraland
Decentraland is described, on its website, as the first-ever virtual world owned by its users.
A software running on Ethereum, Decentraland aims to incentivise a global network of users to operate and grow a shared virtual world.
Users can buy and sell digital real estate, as well as interact with the landscape and other players. The platform uses two types of tokens to govern day-to-day operations. These are:
LAND

– A NFT used to define the ownership of land parcels representing digital real estate.

MANA

– A cryptocurrency that facilitates purchases of LAND, as well as virtual goods and services used in Decentraland.
So, the 3D space within the platform is called LAND, a NFT maintained in an Ethereum smart contract. Land is divided into parcels identified by coordinates, and are permanently owned by members of the community, and are purchased using MANA. This gives users control over their environments and applications.
These parcels can then be further organised into themed communities, or districts. The community can then create shared spaces with common interests and uses.
8. The Galaktic Gang Collection
"Welcome to the "Eternal Now" on the 5th dimension! In this mystical realm an army of alien spirits are joining forces to combat a vibrational war. The goal of "Galaktic Gang" is to bring balance back to the Universe, one planet at a time! "
Now if that wild description hasn't convinced you to invest, I don't know what will.
Created by Chris Dyer, a visual artist who started out in skateboard art, and move towards graphic design for some of the biggest brands in the industry, the Galaktic Gang collection has grown significantly in popularity in the last few months.
These NFT offers something more than the artwork - it offers community. Each newly activated member is given different attributes, using an in-house made generative randomiser. Plus, each member is given exclusive rights to the community.
Unlike the Bored Ape Yacht Club, Dyer isn't interested in offering lavish perks or penthouse parties for his community members, instead providing his members with limited edition prints and paintings, workshops and products. Plus, 10% of all profits go to a charity which plants trees in Peru. Lovely.
"I want my community to be different from everyone else offering this 'lifestyle of the rich and famous'," he says.
"I am super down with people using crypto and NFTs to be empowered and level up in a world that's been unfair to us… but I'm not here to be like the one percent that fucked us all over."
"I want my community to be different from everyone else offering this 'lifestyle of the rich and famous'," he says. "I am super down with people using crypto and NFTs to be empowered and level up in a world that's been unfair to us… but I'm not here to be like the one percent that fucked us all over."
Rather than creating a community to flaunt, Dyer says Galaktic Gang utilities will be more down to earth (though parties aren't off the table—he'll be DJing at the official NFT launch party this Saturday in Denver). Other utilities will include limited edition prints, original paintings, discounts on workshops, and other Positive Creations products featuring his artwork. In addition, Dyer is donating ten percent of all profits generated to a charity that plants trees in his native Peru.
Spending several months working with animators and musicians to create his first NFTs, Dyer saw his collection sell out on day one, and subsequently resold on the secondary market. And, as the value of an NFT rises with every subsequent sale, Dyer earned more and more each time.
This provides a new way for artists and creators to earn, outside traditional channels. For more on this, check out our article detailing how NFTs are shaking up the creator economy, right here. 👈
What really sets Dyers work apart is his creation of a collection which focuses on PFP NFTs or Profile Picture NFTs. Or Profile Picture Non-Fungible Tokens. These NFTs can be used as avatars on social media, to really show your virtual friends how much virtual money you spent on your virtual artwork.
Dyer suggests the reason for his foray into PFP NFTs is that they're heavily rooted into a community. When someone buys an NFT from a particular PFP collection, it acts as access into the club or community associated with the collection, and comes with lasting perks (even if the buyer decides to sell their NFT on).
9. Refik Anadol
Turkish artist Refik Anadol is known for his immersive, digital art.
Currently he is working with the Reel Store in Coventry, to open the first permanent space dedicated to interactive digital art in the UK.
"The product of a long-term collaboration with Nasa, this exhibition [Machine Memoirs: Space] uses artificial intelligence (AI) to reimagine two million publicly available images of space taken by NASA satellites and telescopes, and the International Space Station, capturing the deepest regions of outer space," says a venture assertion.
His previous work Machine Hallucinations: Coral Dreams NFT was launched as a part of an exhibition organised by the NFT platform Aorist.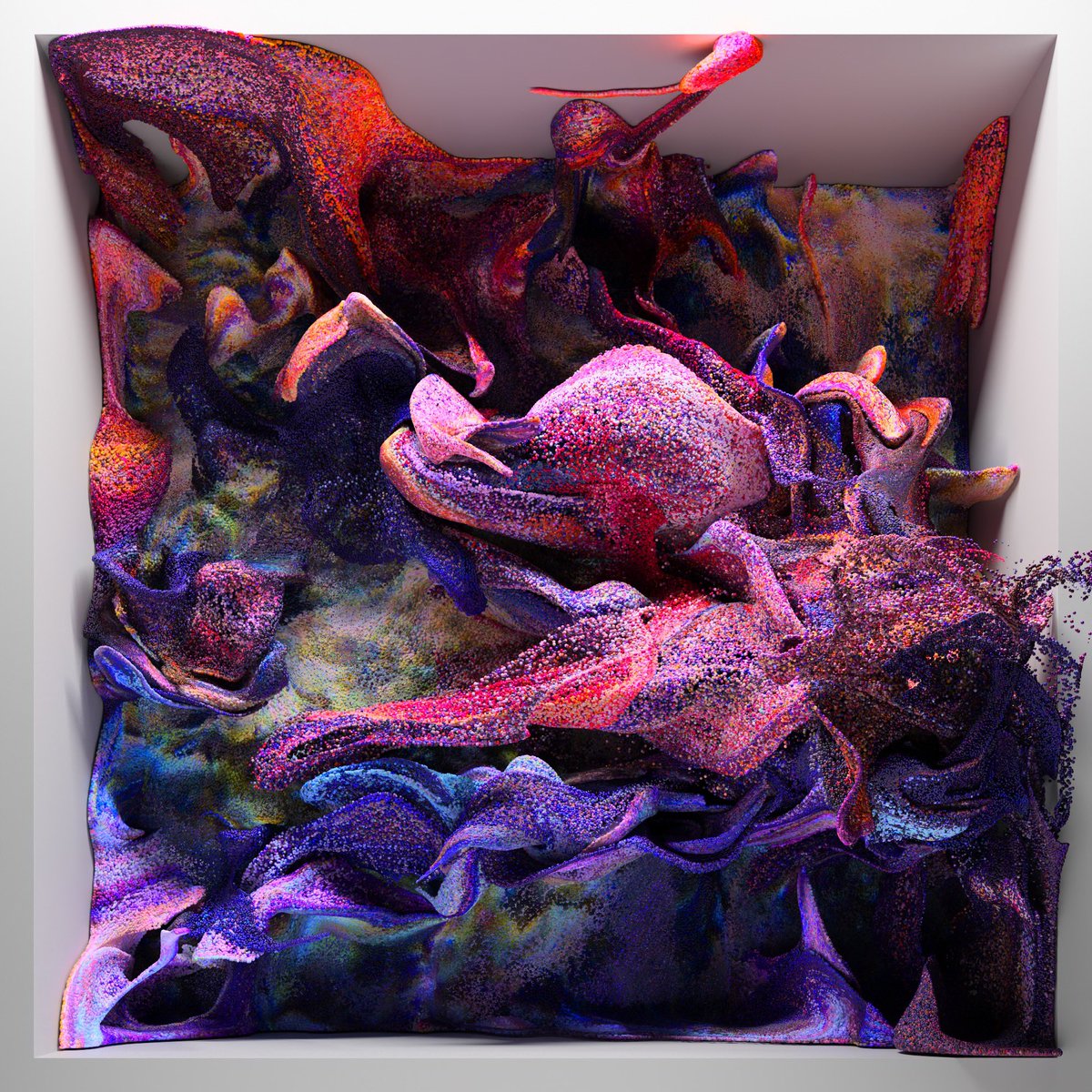 "Anadol and his team collected 300 million nature theme focused data and used 1,742,772 images of coral from publicly available social media platforms and processed them with machine learning classification models," according to the platform.
"As the machine-mind begins to make its own connections between data points and "hallucinate" about alternative coral shapes and colors, the data universe expands into a latent cosmos in which fluid dynamics becomes the main inspiration of Anadol's artistic creativity."
The corresponding NFT was released on the platform on the 30th of November last year.
10. MonkeyBall
According to their site, "MonkeyBall is a next-gen esports game on the metaverse that enables players to Create, Play, Compete, and Earn"
The game combines multiplayer gaming with Solana Blockchain, NFTs, and De-Fi. So, how do you play?
MonkeyBall is a turn-based, Play-to-Earn football game (soccer for all the Americans out there). As a player, you'll manage a four-monkey team, which will compete against other players' teams. The winner of the game earns $MBS, which can be used to buy stadiums, or watch other games being played.
Each Monkey NFT has a unique 'DNA' composed of its appearance, trainable abilities, and special elements. A monkey's 'DNA' and rarity impacts its ability to perform in, and win, matches.
MonkeyBucks ($MBS) can be purchased from exchanges and used to breed monkeys and purchase in-game items from the game store.
The game also features another token - $SCORE. The platform will be governed by a decentralised autonomous organisation, or DAO. The token is the DAO token, and players can vote on economic decisions that affect the game's treasure using it.
The first version of the game is expected to be released in Q1 of this year.